Topic: Water pollution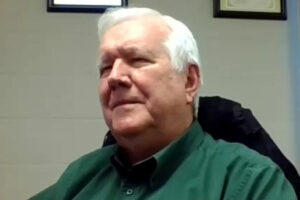 Interviewed by Rex Buchanan
In this 2020 oral history interview, Mike Dealy discusses his observations of Kansas water policy implementation during his career as the Manager of a Groundwater Management District (GMD). He reflects on the degree to which water policy permeates all aspects of society and politics. He recalls how the GMD Board's interest in water quality added a dimension to water management that didn't exist in all GMDs. He also notes that changes in the composition of the GMD Board of Directors had an impact on policy development and reflects on the importance of broad representation in the elected Board of Directors.
Show More
That broad representation ideally can result in cooperation among all water users in a GMD, irrigators, municipalities, and industries, which is key to a successful management plan. Show Less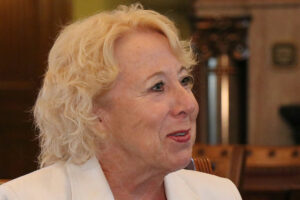 Interviewed by Dale Goter
Former State Senator Christine Downey recalls her three terms in the Kansas Senate (1993-2004) during her 2019 oral history interview. With her background as a teacher, education issues were important to her as the era of school-funding litigation continued. She was involved in water-related policy making, in particular at the nexus of water quality and agricultural practices. She recalls her service in the Senate and on the Kansas Board of Regents first developing the policy and then implementing fundamental changes to the postsecondary education system. Ms. Downey discusses numerous instances of working across the aisle
Show More
to accomplish policy objectives that did not break on strict party lines. Show Less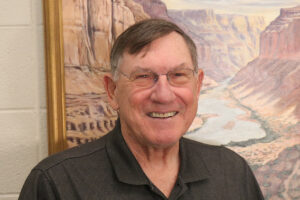 Interviewed by Rex Buchanan
Former Kansas Governor Mike Hayden talks about how his life-long concern for wildlife and natural resources informed his entry into electoral politics, service in the Kansas House, time as Governor, and his subsequent career. This interview provides insight into how one Kansan was able to make a lasting impact on the state in a key public policy area. Hayden provides perspective on policies that were initiated during his time in office that remain in place and some that may need to be re-examined in the light of recent developments.