About this Collection
Notable Kansans is a collection of interviews of people who have served in a variety of roles, related to the development or administration of public policy. Generally, these persons had long public service careers. Their impact on government or life in Kansas is unmistakable and positive.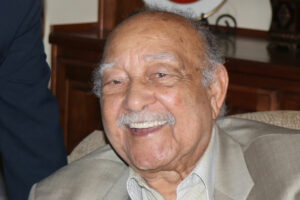 Interviewed by Michael (Mike) Lennen
In this 2020 oral history interview, Jack Alexander reflects on his early life growing up in Topeka, Kansas in the 1930s and 1940s, and his extensive public service career beginning with enlistment in the Navy. Alexander served in various roles both in local government, particularly as Water Commissioner for the City of Topeka, and in state government, including appointment to the Kansas Corporation Commission. He also made significant contributions to local volunteer organizations. Alexander's recollections create a portrait of an individual committed to public service based on a solid foundation in family and community and a sincere appreciation of and
Show More
concern for others. Show Less
Interviewed by Andy Tompkins
People interested in the development of education policy in Kansas will find no better resource than this 2020 oral history interview with Dale Dennis, Deputy Commissioner of Education. This interview was conducted by Dr. Andy Tompkins, a former Kansas Commissioner of Education. During the interview, Dennis speaks candidly about policy development, indicating the issues and the legislators who were intrinsically involved. The interview covers the 1972 lawsuit which was the first dealing with issues of equity in school funding. Twenty years later, the 1992 school finance lawsuit again challenged the lack of equalization which rendered the formula unconstitutional. The process
Show More
by which the Legislature, Governor Joan Finney, Speaker Marvin Barkis, and others went about addressing the Court's concerns is explained in detail. By 2000 the Legislature had again failed to fund the school finance formula fully and the Montoy lawsuit arose. There was another case in 2010 (Gannon); this time the problem was the adequacy of the funding to meet constitutional requirements. Moving on from school finance lawsuits, the interview covers school consolidation and related issues of local control. Dennis explains why he started offering budget workshops to school administrators, including the development of software and the use of computers. This interview includes a brief discussion of the 1999-2000 legislation that moved state oversight of community colleges and technical schools (later termed technical colleges) from the Kansas Department of Education to the Kansas Board of Regents. Show Less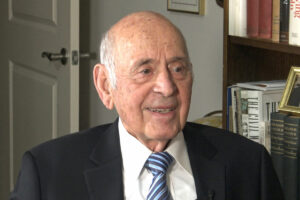 Interviewed by Michael (Mike) Matson
Former Attorney General Robert T. Stephan, in this 2020 oral history interview, recalls the highlights of his years serving the State of Kansas as Attorney General (1979 to 1995). Stephan's career as a champion of children as well as victims of crime and discrimination was shaped by his upbringing in Wichita and his strong sense of what it right. Stephan laments the increasingly partisan atmosphere of the National Association of Attorneys General, an organization to which he belonged during his time in state service.