Topic: Local Option Budget (LOB)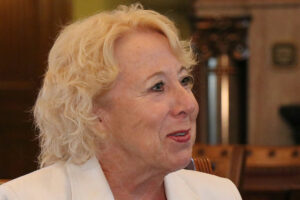 Interviewed by Dale Goter
Former State Senator Christine Downey recalls her three terms in the Kansas Senate (1993-2004) during her 2019 oral history interview. With her background as a teacher, education issues were important to her as the era of school-funding litigation continued. She was involved in water-related policy making, in particular at the nexus of water quality and agricultural practices. She recalls her service in the Senate and on the Kansas Board of Regents first developing the policy and then implementing fundamental changes to the postsecondary education system. Ms. Downey discusses numerous instances of working across the aisle
Show More
to accomplish policy objectives that did not break on strict party lines. Show Less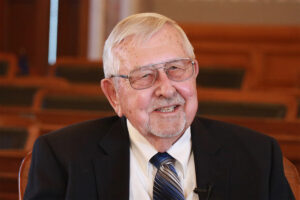 Interviewed by Alan Conroy
Jack Wempe of Rice County gave a detailed interview about the decade of the 1990's he spent in the Kansas House of Representatives. He played pivotal roles in the passage of the 1992 school finance bill and legislation to consolidate governance in higher education. He worked with members of both parties to pass legislation important to rural communities as well as education. Wempe became interested in taxation and economic development. Wempe also comments on the shift in philosophy of the Republican party during his time in office and its move to a more conservative leadership.
Show More
At the conclusion of his legislative service, Wempe was appointed to the Board of Regents where he became chair in 2003. Show Less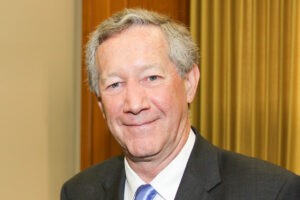 Interviewed by Joan Wagnon and David Heinemann
Senator John Vratil served 14 years in the Kansas Senate, chairing the Judiciary committee 8 of those years and serving as Senate Vice-President for 10 years. Vratil was a leader in the Senate on both education issues as well as judiciary issues. He served on the Judicial Council helping the courts coordinate policy initiatives with the Administration and Legislature. He discusses the change in the power structure of the Senate, from "moderate Republican to Right Wing Conservative." He cites medicaid expansion as one example of a popular issue with the public, but not with the new "right-wing"
Show More
conservative majority. He comments the declining number of lawyers in both the Senate and House may be due to the low salaries. Show Less