Topic: Fort Hays State University (FHSU)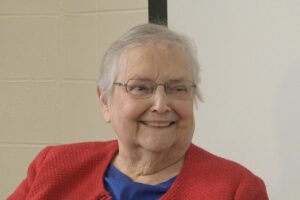 Interviewed by Rex Buchanan
During her 2019 oral history interview, Joyce Wolf talks about her background working with environmental organizations on a variety of environmental issues. With a degree in bacteriology, she became interested in water quality issues before the creation of the U.S. Environmental Protection Agency (EPA). Wolf worked with Jan Garton, a key figure in environmental advocacy in Kansas, and a coalition of environmental groups supporting water rights for the Cheyenne Bottoms wetland area under the banner of "Save Our Bottoms." Wolf was also involved in debates over the low-level radioactive waste disposal facilities. She elaborates in this interview on the
Show More
success of the coalition achieving an arrangement for adequate water supply for Cheyenne Bottoms and funding of the State Water Plan during the administration of Gov. Mike Hayden. Wolf recalls that environmental organizations were also concerned about the silting-in of the federal reservoirs, the decline of the Ogallala aquifer, the conflict over the Arkansas River that led to the Kansas v. Colorado lawsuit, and the loss of surface water in western Kansas. Wolf also discusses the cultural differences between Kansas and Minnesota that appears to reflect a lack of appreciation of the natural environment in Kansas. Show Less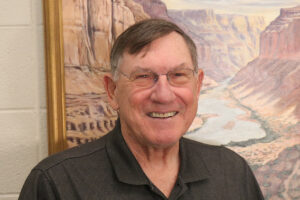 Interviewed by Rex Buchanan
Former Kansas Governor Mike Hayden talks about how his life-long concern for wildlife and natural resources informed his entry into electoral politics, service in the Kansas House, time as Governor, and his subsequent career. This interview provides insight into how one Kansan was able to make a lasting impact on the state in a key public policy area. Hayden provides perspective on policies that were initiated during his time in office that remain in place and some that may need to be re-examined in the light of recent developments.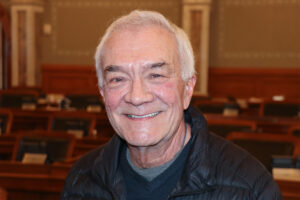 Interviewed by Eric Sexton
Wichita, Kansas seems an unlikely place to find a Cuban-American as mayor. But Carlos Mayans' political career hasn't followed traditional paths. One TV station that supported him for Mayor gave him kudos for his tenacity in lowering airfares at the Wichita airport. Mayans' interview highlights his coming to Kansas because of the revolution in Cuba to join his brother and sister. He started his own insurance agency and later, ran for the legislature before becoming Mayor of Wichita. His interview is replete with examples of his interactions with lobbyists, fellow legislators and campaign stories.
Show More
Mayans notes that Americans love to label people, and he is difficult to label. He had an impact on health policy as chair of the committee dealing with health issues such as assisted living and skilled nursing care. As Mayor of WIchita , the development of the Affordable Air Fares program was a significant boost to economic development as was the construction of an arena. Show Less