Topic: Corporate hog farming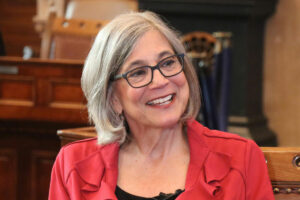 Interviewed by Alan Conroy
Former Kansas legislator Susan Wagle describes her interest in politics as "evolving over time." In this interview she candidly talks about her journey to become the first woman to break the glass ceiling and be elected to the top leadership position in the Kansas Senate. And she held onto the Senate Presidency for two terms. Wagle cites several events as having shaped her decision to run: getting a free pregnancy test and learning it was from an abortion clinic; seeing the huge property tax bills resulting from classification and reappraisal and how they angered people; enactment
Show More
of bingo legislation that affected he business negatively--all of which led to awareness that government could have an impact on families and businesses. Once in the Legislature, Wagle developed legislation to control property taxes. When an incumbent left a Senate seat, Wagle moved to the other chamber. She formed alliances in both the House and Senate with a group of conservative legislators enabling her to attain leadership positions. Wagle authored the Woman's Right to Know Act and solicited support from a prochoice Senator to get it passed--the first pro-life legislation. As a committee chair Wagle felt she had greater ability to pass bills that were needed. The issues she addressed ranged from protecting ground water from corporate hog farming, to tax-limiting measures, to ethics. Wagle credits her many years of service to listening to her constituents on issues such as taxation, quality of life, and education. In the closing of this interview, Wagle talks about her last year with COVID which she describes as "horrific" and disruptive. She reflects on her accomplishments changing the Board of Healing Arts and dealing with the Bioscience Authority. Show Less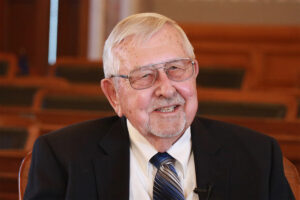 Interviewed by Alan Conroy
Jack Wempe of Rice County gave a detailed interview about the decade of the 1990's he spent in the Kansas House of Representatives. He played pivotal roles in the passage of the 1992 school finance bill and legislation to consolidate governance in higher education. He worked with members of both parties to pass legislation important to rural communities as well as education. Wempe became interested in taxation and economic development. Wempe also comments on the shift in philosophy of the Republican party during his time in office and its move to a more conservative leadership.
Show More
At the conclusion of his legislative service, Wempe was appointed to the Board of Regents where he became chair in 2003. Show Less
Interviewed by Alan Conroy
Joe Knopp's interview takes place 33 years after he left the legislature in 1988 after losing a close election and short-circuiting his political career. His recollections are still vivid and his interview describes a legislature that has changed considerably in recent years. Knopp served from 1981 through 1988 and during that time as chair of the House Judiciary Committee was involved in many significant issues: medical practice, corporate hog farming, changes in the DUI law, death penalty, reapportionment, severance tax. As Majority Leader he dealt with a growing split in the Republican caucus --led by the Rebels.
Show More
He tried to get votes for a special session on a new highway plan. He describes in detail the process of getting elected to a leadership position and how he won by one vote. He talks candidly about balancing his personal views with those of his constituents, particularly on liquor and gambling issues --and he speaks analytically about losing the election in 1988 and again in 2012 when he ran for the Senate. Good insights for anyone contemplating a run for public office. Show Less