Topic: Burrton IGUCA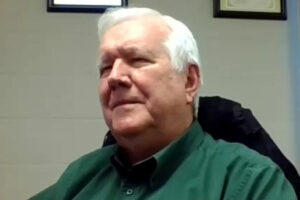 Interviewed by Rex Buchanan
In this 2020 oral history interview, Mike Dealy discusses his observations of Kansas water policy implementation during his career as the Manager of a Groundwater Management District (GMD). He reflects on the degree to which water policy permeates all aspects of society and politics. He recalls how the GMD Board's interest in water quality added a dimension to water management that didn't exist in all GMDs. He also notes that changes in the composition of the GMD Board of Directors had an impact on policy development and reflects on the importance of broad representation in the elected Board of Directors.
Show More
That broad representation ideally can result in cooperation among all water users in a GMD, irrigators, municipalities, and industries, which is key to a successful management plan. Show Less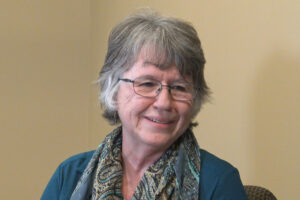 Interviewed by Rex Buchanan
In her 2020 oral history interview, Mary Fund talks about her involvement in water policy from the perspective of her work at the Kansas Rural Center (KRC) since the late 1970s. Fund authored Water in Kansas, A Primer, published in 1984 by the KRC. In this interview, she talks about the difficulty of making changes in farming methods that will conserve both water and soil when those changes require farmers to voluntarily alter decades of entrenched farming practice. Fund also observes that shifting the political culture is key to making voluntary changes work.
Interviewed by Rex Buchanan
In this 2020 oral history interview, former State Representative Carl Holmes discusses his observations of state water policy formulation in the 1970's through 2012. Holmes began his involvement in water policy as a farmer and active member of his community in southwest Kansas. In many respects, his experiences reflect the water-energy nexus. He describes how he had observed cities and irrigators mining water in southwest Kansas. He recalls developing a comprehensive understanding of water issues by interviewing the managers of the state's water resources. In this interview, Holmes describes how he managed the House Energy and Natural Resources Committee by
Show More
creating subcommittees and educating members on how to work bills and guide them through the process. He discusses his bipartisan work with Representative Ken Grotewiel and other committee Democrats in the 1990s, actions that resulted in the Speaker removing him from the chairmanship of the committee. Holmes describes how irrigation changed over time from flood to sprinklers and how the sprinkler systems have become more efficient. However, Holmes observed that groundwater levels continue to decline leading to abandoned wells, the growing of crops that require less water, the return to dryland farming, and, for some, the call for diversion of water from distant sources, such as the Missouri River, to sustain farming and communities on the plains. Show Less